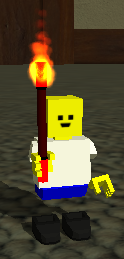 Blockheads are the primary being of the In-Game world, and by default, the only being (horses included). Blockheads are capable of building magnificent structures, or complicated computer systems. Virtually, they can do anything save for edit the map geometry (unless mission editor is in effect). Player Characters, and Bots, control the Blockheads, and can fully customize their attire.
They are very comedic, and are regarded as cute, rather than serious characters (Exceptions in some Roleplay/Warfare servers). They have a comedic, high-pitched "Ahh!" sound when killed, and sqeak when hurt. This seems more like an actual oral sound, rather than does of a "squeaky toy". The high-pitched sounds are likely a reference to their small size.
Abilities
Edit
Blockheads can have a large variety of physical strengths and weaknesses, with the Quake-Like player acting like the player characters do in Quake, being faster than normal. Typically, they have jet boots (shortened to "jets") which allow them to elevate to higher levels to build tall structures and reach them. Certain "Player Types" do not have jets, or require fuel to use jet shoes.
Blockheads are apparently lego-like toys. They originally appeared as lego minifigures. They built with lego-like bricks, which said "Blockland" on them rather than "Lego". Blockheads are likely owned by a specific owner, the clue being given is that in the "Bedroom" map, they are lego toy scaled in a full-size bedroom, easily leading clues that they are plastic toys. It is unknown what company produces them, and how. Blockheads have floating arms and legs, and it is unknown what allows for this phenomonon.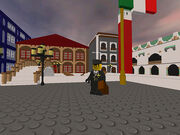 Personality
Edit
Blockheads have a human-like personality, being hurt when wrecking into stuff too hard, of falling. It is also obvious they feel pain, (pain sounds above), and is VERY realistic in physics, unlike the vehicles.
When changing the timescale to 0.5 and then pressing Ctrl + K, you can hear the closest thing to the unedited sound file of the blockhead scream.