Introduction to Modeling
Edit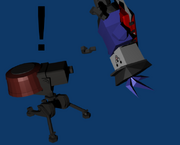 Modeling is one of the key essentials to Blockland modding. It's used to make weapons, items, vehicles, props, and bricks.
A custom 3D model can add the perfect amount of unique qualities to any add-on, although some modders of the community prefer to use default game models for their scripts.
Modeling is the art of 3D sculpture. By creating and modifying shapes, a person can create a vast variety of things. 3D modeling is essential in most computer games and Blockland is no exception.
Blockland in particular runs on the Torque Game Engine, the Torque Game Engine's primary model format is .dts
Every game engine has it's own model format, but since Blockland runs off of Torque Game Engine, we will be working with .dts
What should I know already?
Edit
If you don't already have some experience in modeling, that's ok! Most people don't.
If you know how to operate a Windows or Mac environment, then you're already on your way to becoming a modeler.
It's not hard to model, it's hard to come up with what to model. Remember that.
Resources
Edit
You should have an appropriate modeling program in order to export to .dts correctly for use with TGE or Blockland.
I've compiled a short list of the best modeling software.
Wings 3D, Blender, and Google Sketchup are free to use modeling programs. And they are highly recommended by the blockland community.
Google Sketchup has a free and pro edition
Pro has extra tools and resources, and will be discussed later.
On the other hand, Milkshape, and 3DS Max cost some dough. Milkshape is about 30$ and 3DS is around 1,000 with a student edition. Milkshape is recommended for first time modelers, 3DS is for more advanced artists.