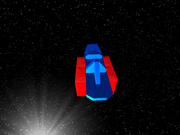 The Skis are an item used to ride down slopes.
You can't ride them when in mid air but you can use them while moving, as long as you aren't running with Quake-like or other fast playertypes.
When you first pick them up, they are blue, but this can be changed by using your spray can to pick a color, then ride. You can even use a transparent color to make "glass" Skis.